​
Depending on the condition of the statue and the wishes of a commissioner I can either simply restore it with maximum accuracy or make it more nuanced and personal, treating the statue as a three-dimensional icon.
​

St Joseph: (left) original condition and (right) restored,
Cathedral of Armidale
For example, the old wooden statue of St Joseph from the Catholic Cathedral had suffered many repaints over the years and eventually ended up as, the face especially, quite unacceptable.I removed all layers and repainted the statue in accordance with tradition. The face was refined and given an expression more suitable for prayer. The missing staff with blossoming lilies was sculptured.
Sometimes restoration requires quite an unusual approach, like the statue of St Anthony of Padua which lacked the Baby Jesus (sitting on the book in the hand of the Saint). I sculptured the reference to the vision, the cloud (the idea came from El Greco's painting of the same Saint), on which I then painted a small icon of the Baby Jesus.
​
The Vision of St Antony of Padua
Cathedral of Armidale
​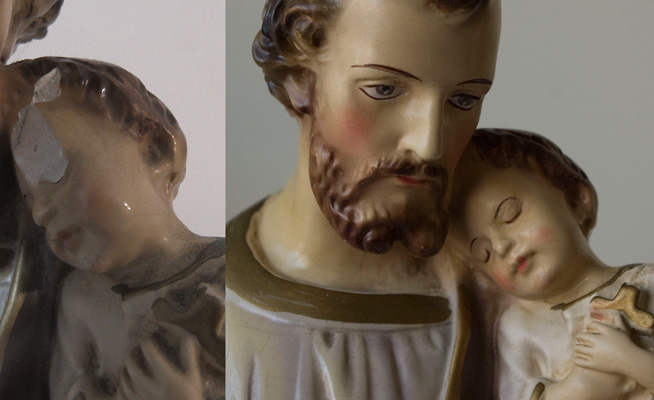 St Joseph with Baby Jesus: exact restoration of a family relic.
I appreciate the personal attachment and significance of a devotional image and its importance in prayer life (and the life of a family) so I find it very rewarding to bring such images back to life so to speak.